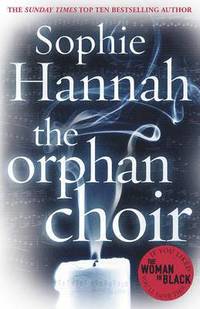 Originaltitel: The Orphan Choir
Sidor: 291 (Inbunden)
"Louise's seven year old son has been sent away to boarding school against her wishes, and she misses him desperately. And her neighbour from hell is keeping her awake at night by playing loud, intrusive music. So when the chance comes to move to the country, she jumps at it as a way of saving her sanity. Only it doesn't. Because the music has followed her. Except this time, it's choral music sung by a choir of children only she can see and hear..."
Den här boken har stått i min hylla i flera år och bara väntat på att få uppmärksamhet. I juni blev det äntligen dags och jag måste säga att jag känner mig ganska meh till den.
Det tog otroligt lång tid för den där flytten ut på landet att hända. Mer än halva boken hann passera innan de äntligen var där. Innan det hade Louise hört barnkören några gånger men mest antagit att det var hennes granne som djävlades med henne. Så den kändes väldigt seg.
När de väl flyttat händer lite mer. Och när slutet närmar sig blir det ganska intensivt. Slutet överraskade dessutom och det är det mest positiva i boken. Oftast är det väl så att en bok kan förstöras av slutet, här är det nästan räddningen istället. Twisten gjorde så det inte kändes som helt bortkastad tid. Men överlag var det tyvärr ingen bok för mig.