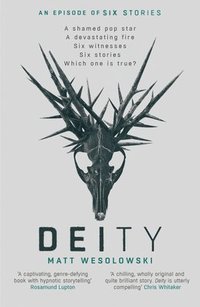 Originaltitel: Deity
Sidor: 320 (Häftad)
Serie: Six Stories (del 5)
"A shamed pop star. A devastating fire. Six witnesses. Six stories. Which one is true?
When pop megastar Zach Crystal dies in a fire at his remote mansion, his mysterious demise rips open the bitter divide between those who adored his music and his endless charity work, and those who viewed him as a despicable predator, who manipulated and abused young and vulnerable girls.
Online journalist, Scott King, whose Six Stories podcasts have become an internet sensation, investigates the accusations of sexual abuse and murder that were levelled at Crystal before he died. But as Scott begins to ask questions and rake over old graves, some startling inconsistencies emerge: Was the fire at Crystal's remote home really an accident? Are reports of a haunting really true? Why was he never officially charged?
Six Stories fortsätter att leverera! Den här gången börjar Scott King gräva i en världsberömd popstjärnas liv och död. Ligger det något i anklagelserna som framförts mot honom, spökar det verkligen vid hans hus mitt ute i skogen och vad är det för underlig varelse som flera i hans närhet verkar ha sett?
Det är väldigt svårt att läsa den här boken och inte dra paralleller till verkliga händelser. Jag tänker på det hela tiden. Det stör inte läsningen, tvärtom gör det allt mer intressant. Man får verkligen perspektiv på hur svårt det kan vara för en "vanlig människa" att bli trodd när man står emot någon som är världskänd och gör så mycket gott genom välgörenhet.
Under berättelsens gång svänger mina egna teorier fram och tillbaka beroende på vem Scott King intervjuar. Det är skickligt skrivet! Samtidigt ligger en känsla av något övernaturligt och lurar i bakgrunden. Finns det verkligen något som gömmer sig i skogen eller är det bara folks fantasi som gör att de ser något?
Jag älskar den här serien och håller tummarna för att det kommer fler delar!