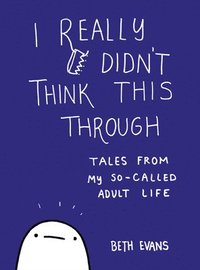 Originaltitel: I Really Didn´t Think This Through
Sidor: 192 (Häftad)
"This book is a compendium of Beth's collected wisdom and stories, interwoven with her tremendously popular and loveable illustrations. The book is a wonderful mix of fun (playful meditations on the band Rush and international pen-pals) and thoughtful (Beth delves into her personal history with obsessive compulsive disorder and depression while commiserating on topics like dating and credit card shame) all with a simple candor that anyone from a teen to their grandparent can relate to.
Through all of her experiences, Beth manages to extract valuable lessons, and the book is replete with friendly advice about caring for yourself, getting help no matter what your problems are, and embracing what makes you happy."
Det här är en charmig och fin liten bok som innehåller både text och illustrationer av Beth Evans. Den tar upp ämnen som ångest, depression, tvångstankar och annat som livet kan innehålla.
Vissa saker kunde jag känna igen mig i och det är oftast därför jag köper böcker i den här stilen. För det mesta finns det något i deras innehåll som träffar rätt. Även de gånger när jag inte kan relatera till saker författaren varit med om lyckas hon verkligen beröra mig som läsare. Till exempel sitter jag med tårar i ögonen när jag läser om hur hon till slut insåg att hon behövde be sina föräldrar om hjälp för att hon mådde så dåligt.
Samtidigt blandar hon det tunga med en del humor i sina illustrationer. Även om de också tar upp ämnen som många känner igen sig i och tycker är jobbiga kan man le åt det tack vare hennes gulliga gubbar. Det är en bok många nog kan hitta igenkänning i och jag är glad att jag köpte den!