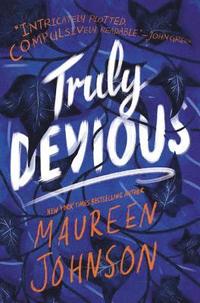 Originaltitel: Truly Devious
Sidor: 420 (Inbunden)
Serie: Truly Devious (del 1)
Ålder: Unga vuxna
"Ellingham Academy is a famous private school in Vermont for the brightest thinkers, inventors, and artists. It was founded by Albert Ellingham, an early twentieth century tycoon, who wanted to make a wonderful place full of riddles, twisting pathways, and gardens. "A place," he said, "where learning is a game." Shortly after the school opened, his wife and daughter were kidnapped. The only real clue was a mocking riddle listing methods of murder, signed with the frightening pseudonym "Truly, Devious." It became one of the great unsolved crimes of American history.
True-crime aficionado Stevie Bell is set to begin her first year at Ellingham Academy, and she has an ambitious plan: She will solve this cold case. That is, she will solve the case when she gets a grip on her demanding new school life and her housemates: the inventor, the novelist, the actor, the artist, and the jokester. But something strange is happening. Truly Devious makes a surprise return, and death revisits Ellingham Academy. The past has crawled out of its grave. Someone has gotten away with murder."
Jag minns inte riktigt var jag hörde talas om den här serien, det kan ha varit hos någon på booktube, det kan ha varit på någon podcast. Jag har i alla fall varit nyfiken på den ända sedan dess så jag blev jätteglad när jag fick låna den av Jennifer!
Trots att jag var så pepp på att läsa den var jag lite orolig för att den skulle vara fel för mig eftersom den räknas som en bok för unga vuxna. Och många gånger är det för mycket kärleksdrama i dem för att jag ska fastna. Men, den här gången gick det jättebra. Det är lite kärlek med i boken men det är inte där fokuset ligger.
Huvudkaraktären Stevie är underbar. Jag älskar att hon är lika intresserad av true crime som jag är. Eller okej, hon slår faktiskt mig, jag skulle nog aldrig ens få för mig att försöka lösa ett cold case. Hon är både modig och smart utan att vara en supermänniska, hon känns trovärdig. Dessutom kämpar hon med panikångest. Jag insåg att det är sällan jag läser om karaktärer som har panikattacker. Jag tycker författaren gjorde ett bra jobb med att beskriva hur det kan kännas och det bidrog till att få Stevie att kännas otroligt verklig.
Mysterierna är riktigt intressanta och spännande. Jag är så fascinerad av det gamla fallet som Stevie försöker lösa. Allt som allt älskade jag den här läsupplevelsen och jag ska göra mitt bästa för att få in del två i junis tbr-hög!