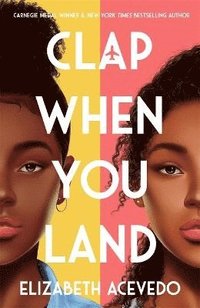 Originaltitel: Clap When You Land
Sidor: 432 (Häftad)
"Camino Rios lives for the summers when her father visits her in the Dominican Republic. But this time, on the day when his plane is supposed to land, Camino arrives at the airport to see crowds of crying people...
In New York City, Yahaira Rios is called to the principal's office, where her mother is waiting to tell her that her father, her hero, has died in a plane crash. Separated by distance - and Papi's secrets - the two girls are forced to face a new reality in which their father is dead and their lives are forever altered. And then, when it seems like they've lost everything of their father, they learn of each other."
Clap When You Land är en bok jag har sett väldigt mycket på sista tiden, både på Instagram och Youtube. Jag började lyssna på den som ljudbok för någon månad sedan, men eftersom jag är jättedålig på ljudböcker blev det aldrig att jag lyssnade färdigt.
Till slut gav jag upp det och lånade den från bibblo i fysisk form istället. Då gick det genast mycket bättre! Det är en berörande och stark bok om två unga tjejer som är systrar. Grejen är att de inte vet om varandra, deras pappa levde ett dubbelliv och det är först när han omkommer som de får veta sanningen.
Den är skriven på vers vilket innebär att det är mycket mindre text på sidorna än vad det brukar vara i romaner. Trots det ganska höga sidantalet går det alltså väldigt fort att läsa den. Om man gillar att lyssna på ljudböcker kan jag rekommendera att man testar den här för det är två inläsare och de får till rösterna riktigt bra och de spanska fraserna kommer verkligen till liv bättre på det sättet.
Även om jag gick miste om den delen när jag bytte format så är jag glad att jag gjorde det och kunde läsa ut den. Den är riktigt bra och nu är jag sugen på att läsa mer av författaren.