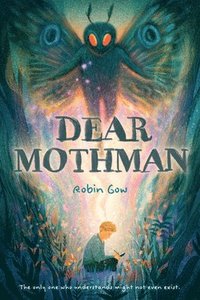 Originaltitel: Dear Mothman
Sidor: 313 (Inbunden)
Ålder: 9-12
"Halfway through sixth grade, Noahs best friend and the only other trans boy in his school, Lewis, passes away in a car accident. Feeling lost and alone, Noah starts writing letters to Mothman, Lewis's favorite cryptid, wondering if he would understand how Noah feels.
At first, Noah isn't sure whether he actually believes in Mothman - not like Lewis did. But when strange things start to happen around his wooded home, Noah wonders whether there might be something to the stories. He decides to make his science fair project about Mothman, despite his teacher's urging to study something "real".
As Noah's mind begins to open, so does his world. He makes friends with a group of girls in his grade and finally feels like he belongs. But most of the world is not so accepting, and he has no evidence to prove that Mothman exists. With the science fair looming closer, Noah decides to risk everything, trek into the woods and find Mothman himself."
Det här var en väldigt fin och känslosam berättelse om Noah som förlorat sin bästa vän Lewis. De två var de enda transkillarna på skolan och Noah försöker navigera genom sorgen och ensamheten. Han har inte riktigt vågat berätta för någon annan att han vill kallas Noah heller, så världen ser honom inte som den han känner sig som.
Han börjar skriva brev till Mothman och bestämmer sig för att göra ett skolprojekt och bevisa kryptidens existens. Underliga saker börjar hända och även om Noah själv var tveksam i början blir han mer och mer övertygad om att Mothman faktiskt finns. Boken består av breven och anteckningarna som Noah gör.
Under berättelsens gång får vi följa när Noahs värld sakta öppnas upp och han vågar släppa in fler människor. Sorgen läker och framtiden kanske inte är så mörk som han först trodde. Det är som sagt en otroligt finstämd bok som tar upp viktiga ämnen. Samtidigt finns det ett litet spänningselement med delarna om Mothman och de händelser som Noah upplever tack vare sitt projekt.