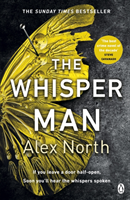 Originaltitel: The Whisper Man
Sidor: 388 (Pocket)
"You'll hear the whispers. And then you'll hear the screams...
Still devastated after the loss of his wife, Tom Kennedy and his young son Jake move to the sleepy village of Featherbank, looking for a fresh start. But Featherbank has a dark past. Fifteen years ago a twisted serial killer abducted and murdered five young boys. Until he was finally caught, the killer was known as 'The Whisper Man'.
Of course, an old crime need not trouble Tom and Jake as they try to settle in to their new home. Except that now another boy has gone missing. And then Jake begins acting strangely.




He says he hears a whispering at his window..."
Den här boken har tagit mig lite tid att läsa, men det är inte bokens fel. Det var bara dumt tillfälle att plocka upp den när jag inte hade ro att sitta still längre stunder. Men till slut, när flyttkartongerna började försvinna och jag dessutom var tvungen att spendera tid hemifrån pga badrumsrenovering, då flög jag igenom den precis som jag misstänkte att jag skulle göra.
The Whisper Man är en riktigt spännande deckare med en del creepy inslag. Den var inte så läskig som jag hade trott och hoppats på. Det var lite synd, men jag tyckte väldigt bra om den ändå. Det är lätt att fastna för pappan, Tom, och sonen Jake. De har lite svårt att nå fram till varandra i sin sorg efter att Jakes mamma dött. Det är både fint och smärtsamt att se deras försök att hitta tillbaka till en vanlig vardag igen. Och samtidigt verkar något olycksbådande dra ihop sig runt dem.
Jag gillade den och sträckläste en stor del bara jag satte mig ner och läste. Författaren har kommit ut med en till bok, som verkar finnas med två olika titlar, The Shadows eller The Shadow Friend. Den låter också riktigt spännande och jag kommer garanterat att plocka upp den!