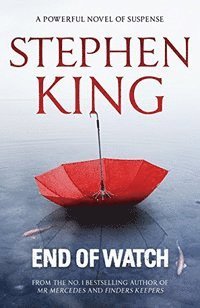 Originaltitel: End of Watch
Sidor: 354 (Inbunden)
Serie: Bill Hodges (del 3)
"Retired Detective Bill Hodges now runs a two-person firm called Finders Keepers with his partner Holly Gibney. They met in the wake of the 'Mercedes Massacre' when a queue of people was run down by the diabolical killer Brady Hartsfield.
Brady is now confined to Room 217 of the Lakes Region Traumatic Brain Injury Clinic, in an unresponsive state. But all is not what it seems: the evidence suggests that Brady is somehow awake, and in possession of deadly new powers that allow him to wreak unimaginable havoc without ever leaving his hospital room.
When Bill and Holly are called to a suicide scene with ties to the Mercedes Massacre, they find themselves pulled into their most dangerous case yet, one that will put their lives at risk, as well as those of Bill's heroic young friend Jerome Robinson and his teenage sister, Barbara. Brady Hartsfield is back, and planning revenge not just on Hodges and his friends, but on an entire city.The clock is ticking in unexpected ways..."
Vilken avslutning! Jag tror faktiskt det här är min favorit i serien. Alla har varit bra men den här blev spännande på ett helt nytt sätt och jag satt på nålar många gångar under läsningen.
Bill och Holly är fina karaktärer att följa. Jag fastnar extra mycket för Holly som verkligen gjort en stark resa och utveckling genom böckerna. I andra, Finders Keepers, var hon och Bill i och för sig inte med under en stor del av boken, men här i tredje är de tillbaka i centrum av berättelsen och det tycker jag om.
Själva historien utvecklade sig på sätt jag inte väntade mig och som jag verkligen inte kunnat förutse baserat på vad som hänt tidigare. Samtidigt blev det inget överdrivet slut, det är lite ovanligt för King. Jag har sagt det förut, hans slut brukar vara lite all over the place. I den här trilogin har det däremot inte hänt med någon av böckerna, vilket är väldigt positivt!
Jag är så glad att de äntligen har blivit lästa och nu borde jag väl se serien som är baserad på dem också antar jag. Är det någon som sett den? Är den bra?