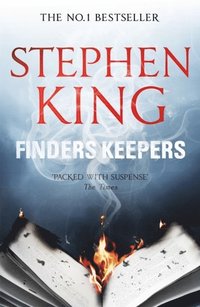 Originaltitel: Finders Keepers
Sidor: 385 (Pocket)
Serie: Bill Hodges (del 2)
"1978: Morris Bellamy is a reader so obsessed by America's iconic author John Rothstein that he is prepared to kill for a trove of notebooks containing at least one more unpublished novel.
2009: Pete Saubers, a boy whose father was brutally injured by a stolen Mercedes, discovers a buried trunk containing cash and Rothstein's notebooks.
2014: After thirty-five years in prison, Morris is up for parole. And he's hell-bent on recovering his treasure. Now it's up to retired detective Bill Hodges - running an investigative company called 'Finders Keepers' - to rescue Pete from an ever-more deranged and vengeful Morris..."
Det här är andra boken i serien om Bill Hodges och även den andra i mitt lilla Stephen King-projekt som jag har på gång fram till januari i alla fall.
Det dröjer ett tag innan Bill faktiskt kommer in i berättelsen och egentligen skulle jag nog inte kalla honom för en huvudkaraktär. Han är med lite när allt ska börja knytas ihop men den riktiga huvudkaraktären är Pete Saubers som hittar en begravd väska full med pengar och opublicerade manuskript. Manuskripten råkar dessutom vara från hans favoritförfattare. Men det finns någon annan som vill ha tag på dem och det gör så att Pete riskerar att råka illa ut.
Jag tyckte nog på ett sätt till och med bättre om den här än om första delen. Mr. Mercedes var väldigt bra och spännande men något med Finders Keepers fångar mig extra mycket. Kanske är det för att det faktiskt handlar om böcker på ett sätt. Eller så är det för att jag tycker om Pete som karaktär. Han kanske inte alltid handlar helt logiskt men han har verkligen goda avsikter med allt han gör och det är lätt att känna med honom.
Det ska bli intressant att se var den tredje delen tar vägen och hur det ska sluta. Jag ser verkligen fram emot att plocka upp den nu under november.