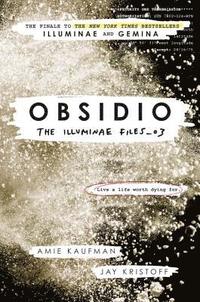 Originaltitel: Obsidio
Sidor: 624 (Inbunden)
Serie: The Illuminae Files (del 3)
"Kady, Ezra, Hanna, and Nik narrowly escaped with their lives from the attacks on Heimdall station and now find themselves crammed with 2,000 refugees on the container ship, Mao. With the jump station destroyed and their resources scarce, the only option is to return to Kerenza--but who knows what they'll find seven months after the invasion? Meanwhile, Kady's cousin, Asha, survived the initial BeiTech assault and has joined Kerenza's ragtag underground resistance. When Rhys--an old flame from Asha's past--reappears on Kerenza, the two find themselves on opposite sides of the conflict. With time running out, a final battle will be waged on land and in space, heros will fall, and hearts will be broken."
Det här är tredje och avslutande delen i serien
The Illuminae Files
som jag kunnat läsa tack vare att Rebecka var snäll och skickade upp dem! Boktokiga vänner alltså, så fint! Det gjorde så att jag kunde avsluta en serie i ganska snabb takt, något som händer väldigt sällan.
Men nu är den slut och det är lite tomt! Jag ska inte säga så mycket om handlingen mer än att det var riktigt spännande och fartfyllt. Precis som i de två tidigare böckerna. Det känns inte som att det är mycket tid då det inte händer något. Karaktärerna får inte en lugn stund. Och jag stressläser nästan när jag närmar mig slutet för att snabbt få veta hur det går och vilka som överlever. Mina nerver!
Det har varit ett riktigt äventyr att hänga med på och jag är glad att jag äntligen har läst dem. Det är en serie jag varit nyfiken på i flera år men inte kommit mig för att skaffa eller låna från bibblo. Så tack igen Rebecka! Nu förstår jag äntligen vad många andra pratat om så länge.