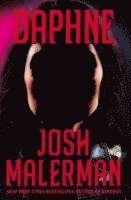 Originaltitel: Daphne
Sidor: 260 (Häftad)
"It's the last summer for Kit Lamb: the last summer before college. The last summer with her high school basketball team, and with Dana, her best friend. The last summer before her life begins.
But the night before the big game, one of Kit's players tells a ghost story about Daphne, a girl who went to their school many years ago and died under mysterious circumstances. Some say she was murdered, others that she died by her own hand. And some say that Daphne is a murderer herself. They also say that Daphne is still out there, obsessed with revenge, and will appear anytime someone thinks about her to kill again.




After Kit hears the story, her teammates vanish, one by one, and Kit begins to suspect that the stories about Daphne are real...and to fear that her own mind is conjuring the killer. Now it's a race against time as Kit searches for the truth behind the legend and learns to face her own fears. Or else the summer of her lifetime will become the last summer of her life."
Daphne är en spännande och creepy skräckis om tankar, rädslor, ångest och hur de funkar och påverkar oss. Om någon säger åt dig att inte tänka på något, då är det i princip omöjligt att låta bli. Men tänk om tankarna gör så att en mordisk tjej återvänder från de döda och ger sig på dig och dina vänner? Det är ungefär vad som händer i den här boken.
Kit är vår huvudkaraktär och efter att hon börjat tänka på Daphne så kan hon inte sluta. Detsamma gäller hennes lagkamrater, och när de börjar dö en och en blir tankarna bara värre, rädslorna bara starkare. Ingen verkar kunna hjälpa dem.
Samtidigt som vi får följa Kit och hennes försök att rädda sig själv och sina vänner får vi ta del av svårigheter hon hade redan innan Daphne kom in i bilden. Kit lider av ångest och jag tycker att Malerman har lyckats skildra de känslorna på ett väldigt bra och trovärdigt sätt. I alla fall så kan jag känna igen mig i mycket från när min egen ångest var värre än vad den är nu.
Jag har tidigare läst och gillat Bird Box av samma författare, nu är jag sugen på att läsa mer från honom i framtiden!