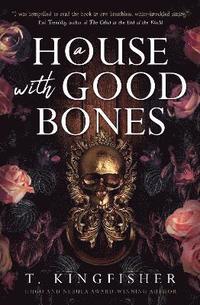 Originaltitel: A House With Good Bones
Sidor: 313 (Inbunden)
"In this ordinary North Carolina suburb, family secrets are always in bloom. Samantha Montgomery pulls into the driveway of her family home to find a massive black vulture perched on the mailbox, staring at the house. Inside, everything has changed. Gone is the eclectic warmth Sam expects; instead the walls are a sterile white. Now, it's very important to say grace before dinner, and her mother won't hear a word against Sam's long-dead and little-missed grandmother, who was the first to put down roots in this small southern town. The longer Sam stays, the stranger things get. And every day, more vultures circle overhead..."
Jag tror att Kingfisher kan klassas som en ny favoritförfattare nu. Det här är tredje boken jag läser och verkligen gillar!
Berättelsen lyckas vara både krypande obehaglig och rolig på samma gång. Något som verkligen kännetecknar författarens skrivsätt. Den är dessutom väldigt lättläst och kapitlen bara flyger förbi. Spänningen byggs sakta upp, i början är det bara en creepy känsla, något som inte riktigt stämmer, sen blir det värre och värre.
Letar man en bok utan någon direkt kärlekshistoria är det här också ett bra tips. Här finns det inga heta scener, däremot ganska många gamar! Plus flera intressanta karaktärer. Jag ser fram emot att fortsätta läsa mig igenom Kingfishers böcker.