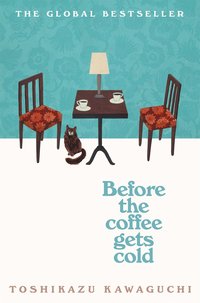 Originaltitel: Coffee Ga Samenai Uchini
Sidor: 213 (Häftad)
"In a small back alley in Tokyo, there is a cafe which has been serving carefully brewed coffee for more than one hundred years. But this coffee shop offers its customers a unique experience: the chance to travel back in time.
In Before the Coffee Gets Cold, we meet four visitors, each of whom is hoping to make use of the cafe's time-travelling offer, in order to: confront the man who left them, receive a letter from their husband whose memory has been taken by early onset Alzheimer's, see their sister one last time, and meet the daughter they never got the chance to know. But the journey into the past does not come without risks: customers must sit in a particular seat, they cannot leave the cafe, and finally, they must return to the present before the coffee gets cold..."
Jag tycker verkligen om den här boken!
Det är en finstämd, lågmäld och samtidigt väldigt känslosam berättelse. Jag sitter med tårarna rinnande vid några tillfällen. Karaktärernas liv och deras skäl för att vilja resa i tiden är så berörande och jag känner verkligen med dem.
Boken innehåller fyra berättelser, men de hålls samtidigt ihop av en ram och man lär känna de olika personligheterna riktigt väl genom alla delar. Ska jag välja en favorit tror jag det är den sista, men alla är otroligt fina.
Det finns två böcker till i samma serie och jag ser fram emot att läsa dem också.