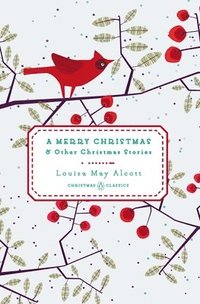 Originaltitel: A Merry Christmas and Other Christmas Stories
Sidor: 147 (Inbunden)
"Louisa May Alcott's enchanting Christmas stories, presented in a beautiful hardcover edition perfect for giving as a gift. A Merry Christmas collects the best holiday stories of Louisa May Alcott, from the yuletide festivities of Marmee and her 'little women' to the moving 'What Love Can Do'. Deeply influenced by real-life events, including characters based on Alcott's family members and drawing from her experiences participating in the suffrage and abolitionist movements, these stories have the authentic texture and detail of Christmas in nineteenth-century America."
Jag har tidigare läst Unga kvinnor av Louisa May Alcott men tyckte faktiskt inte alls om den. Därför var jag lite nervös över att plocka upp A Merry Christmas and Other Christmas Stories.
Men det visade sig att jag tyckte riktigt mycket om den här boken som är full av små juliga noveller. De är väldigt fina och så klart handlar det mycket om att tänka på andra, ge till dem som inte har så mycket och uppskatta varandra.
Perfekt om man vill ha korta berättelser som bara är fina och stämningsfulla. Insidan är lika fin som utsidan!