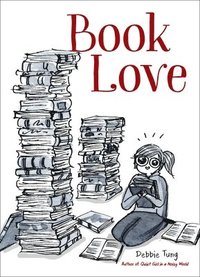 Originaltitel: Book Love
Sidor: 144 (Inbunden)
"Bookworms rejoice! These charming comics capture exactly what it feels like to be head-over-heels for hardcovers. Book Love is a gift book of comics tailor-made for tea-sipping, spine-sniffing, book-hoarding bibliophiles. Debbie Tung's comics are humorous and instantly recognizable-making readers laugh while precisely conveying the thoughts and habits of book nerds. Book Love is the ideal gift to let a book lover know they're understood and appreciated."
Den här underbara lilla boken fick jag i julklapp! Juldagen satt jag och läste ut den i ett svep. Det är helt enkelt träffsäkra serierutor om bokälskare. Det är lätt att känna igen sig och jag har suttit och småfnissat en hel del över vissa delar.
Jag har tidigare läst hennes bok Quiet Girl in a Noisy World och även där var igenkänningen hög. Jag tycker om hennes tecknarstil och baserat på hennes serier verkar vi vara ganska lika i våra personligheter.
Det är helt enkelt en perfekt present till alla bokälskare där ute!