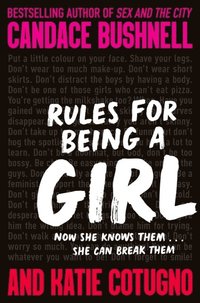 Originaltitel: Rules for Being a Girl
Sidor: 293 (Häftad)
"Don't be easy. Don't give it up. Don't be a prude. Don't be cold. Don't put him in the friendzone. Don't act desperate. Don't let things go too far. Don't give him the wrong idea. Don't blame him for trying. Don't walk alone at night. But calm down! Don't worry so much. Smile!
Marin is a smart, driven, popular girl - she's headed for Brown when she graduates and has a brilliant career as a journalist ahead of her. Especially in the eyes of English teacher Mr Beckett. He spends a lot of time around Marin, and she thinks it's harmless... until he kisses her. No one believes Marin when she tells them what happened, so she does the only thing she can: she writes an article called 'Rules for Being a Girl' for the school paper to point out the misogyny and sexism that girls face every day. As things heat up at school and in her personal life, Marin must figure out how to take back the power and rewrite her own rules."
Ibland är det riktigt spännande att gå in i en bok helt ovetandes om vad man ska förvänta sig. Så var det med Rules for Being a Girl. Jag visste inte så mycket vad den handlade om eller hur den skulle vara.
Det visade sig att det var en bok att sträckläsa! Jag tog mig igenom den på några timmar. Och under de timmarna hann jag med många starka känslor. Jag blev arg, äcklad, frustrerad och riktigt jäkla förbannad.
Marin är en intressant huvudkaraktär. Hon utvecklas otroligt mycket under berättelsens gång och det är fascinerande att följa hennes resa. Samtidigt som jag blir så arg för allt hon går igenom, och tanken på hur många som garanterat går igenom liknande saker i verkligheten.
Den får mig att tänka mycket på hur det är att vara tjej och hur man förväntas vara, på hur jag kände det när jag gick i skolan. Jag tyckte väldigt mycket om boken nu som vuxen men hade nog älskat den ännu mer som tonåring. Eller, jag hade nog
behövt
den ännu mer som tonåring.