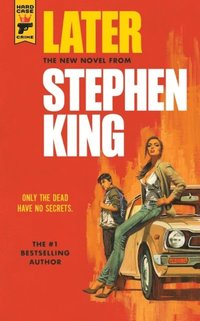 Originaltitel: Later
Sidor: 248 (Häftad)
"The son of a struggling single mother, Jamie Conklin just wants an ordinary childhood. But Jamie is no ordinary child. Born with an unnatural ability his mom urges him to keep secret, Jamie can see what no one else can see and learn what no one else can learn. But the cost of using this ability is higher than Jamie can imagine - as he discovers when an NYPD detective draws him into the pursuit of a killer who has threatened to strike from beyond the grave."
Later är en lite råare, mer hårdkokt berättelse av King. Den har fortfarande övernaturliga inslag men den hårda verkligheten är också väldigt närvarande.
Läsaren får följa Jamie som kan se och prata med de döda innan de helt försvinner från den här världen. Och de döda kan inte ljuga. Något som kan utnyttjas både till gott och ont. Jamie har oturen att ha någon i sin närhet som vill använda hans förmåga av själviska skäl.
Jag tyckte verkligen om Later! Den är spännande och har inte de galet överdrivna slut som King har en förmåga att komma med. Jag fastnar direkt på första sidan och sedan längtar jag till varje ny lässtund. Det är intressant att se världen ur Jamies ögon, både spökdelen och hans egna liv.
Den finns utgiven på svenska och då heter den helt enkelt Senare. King har skrivit fler böcker i samma stil och de ser jag fram emot att skaffa och läsa framöver!