Nu var det ett tag sedan. Jag har garanterat fått tips men jag har varit för trött i skallen för att komma ihåg att skriva om dem. Men idag när jag satt och kikade runt på alla bokälskare på Youtube så ramlade jag över en bok som verkade väldigt intressant. Den finns bara på engelska (än, kan ju hoppas att något svenskt förlag tycker den verkar intressant!), men den gjorde mig så nyfiken att den får vara med här.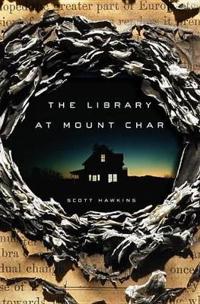 "Neil Gaiman meets Joe Hill in this astonishingly original, terrifying, and darkly funny contemporary fantasy."
Carolyn's not so different from the other human beings around her. She's sure of it. She likes guacamole and cigarettes and steak. She knows how to use a phone. She even remembers what clothes are for. After all, she was a normal American herself, once.
That was a long time ago, of course--before the time she calls "adoption day," when she and a dozen other children found themselves being raised by a man they learned to call Father. Father could do strange things. He could call light from darkness. Sometimes he raised the dead. And when he was disobeyed, the consequences were terrible.
In the years since Father took her in, Carolyn hasn't gotten out much. Instead, she and her adopted siblings have been raised according to Father's ancient Pelapi customs. They've studied the books in his library and learned some of the secrets behind his equally ancient power. Sometimes, they've wondered if their cruel tutor might secretly be God.
Now, Father is missing. And if God truly is dead, the only thing that matters is who will inherit his library--and with it, power over all of creation. As Carolyn gathers the tools she needs for the battle to come, fierce competitors for this prize align against her.
But Carolyn can win. She's sure of it. What she doesn't realize is that her victory may come at an unacceptable price--because in becoming a God, she's forgotten a great deal about being human."
Nu har jag inte läst något av Neil Gaiman ännu (jag ska!) men ungefär alla älskar ju honom, och Joe Hill är en favorit hos mig. Så det här borde vara riktigt, riktigt bra, eller hur? Jag tycker den låter jätteintressant!
Youtube-kanalen jag hittade tipset på är
ThePerksOfBooks
, en av mina favoriter!