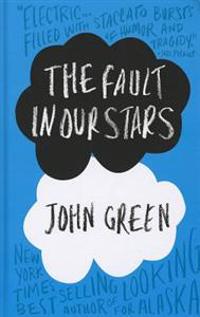 Sidor: 363
"Despite the tumor-shrinking medical miracle that has bought her a few years, Hazel has never been anything but terminal, her final chapter inscribed upon diagnosis. But when a gorgeous plot twist named Augustus Waters suddenly appears at Cancer Kid Support-group, Hazel's story is about to be completely rewritten."
Så, nu har jag, antagligen bland de sista i världen, läst boken som ungefär alla har höjt till skyarna. Det var lite läskigt att plocka upp den när man vet hur otroligt älskad den är, förhoppningarna kan ju inte vara annat än enormt höga.
Och ja, vad ska jag säga? Den krossade mitt hjärta totalt. På ett bra sätt alltså, jag får sluta mig till gruppen som hyllar den. För den fångade mig verkligen, och jag hade svårt att lägga undan den. Samtidigt som jag inte ville att den skulle ta slut, lite delade känslor där: "Bara ett kapitel till...men då är jag närmare slutet...men jag kan inte lägga bort den...men den får inte ta slut än!"
Det är värme, kärlek och humor. Blandat med smärta och sorg. Och jag älskar varje ord i den.
"You don't get to choose if you get hurt in this world, old man, but you do have some say in who hurts you. I like my choices."
- s. 313