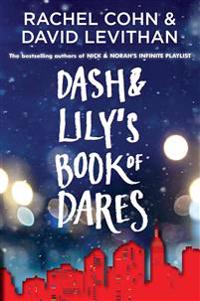 Sidor: 260

"I've left some clues for you.
If you want them, turn the page.
If you don't, put the book back on the shelf, please.
At the urge of her lucky-in-love brother, sixteen-year-old Lily has left a red notebook full of dares on her favourite bookshop shelf, waiting for just the right guy to come along and accept.
Curious, snarky Dash isn't one to back down from a challange - and the Book of Dares is the perfect thing to keep him occupied this Christmas.
As they send each other on a snowbound scavenger hunt across Manhattan, they're falling for each other on paper. But finding out if their real selves share their on-page chemistry could be their biggest dare yet."
Det här är en bok som bokbloggare fått mig att vilja läsa sedan förra julen. Så nu tog jag äntligen tag i det och köpte hem den lagom till julfirandet!
Jag gillar den verkligen, det var alldeles lagom mysig läsning dagarna innan julafton. Att jag är i Kiruna där julstämningen med snö och kyla verkligen är på topp bidrog nog till mysighetsnivån. Hela idén med att hitta en sådan bok i en bokaffär är helt underbar tycker jag, det hade varit riktigt häftigt att själv få göra.
Det kanske inte är världens djupaste bok med de mest intressanta karaktärerna, men den är väldigt charmig och ett nöje att sätta sig med. Troligtvis kommer den att läsas om, kanske inte nästa jul men när det har gått några jular, då kan jag tänka mig att jag vill återuppta bekantskapen med den!